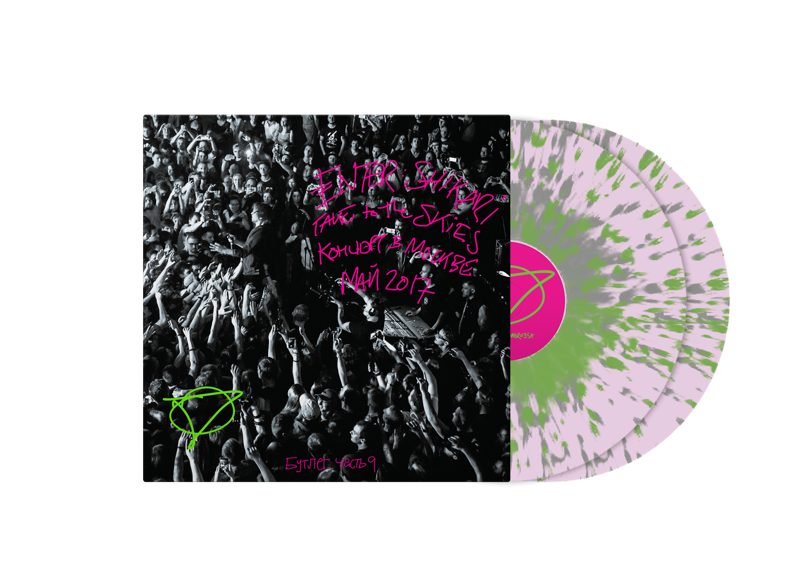 Take To The Skies: Live In Moscow 2xLP - Pink w/ Grey + Green Splatter
'Take To The Skies. Live In Moscow. May 2017' - Deluxe 2xLP set.
Heavy matt finish card 5mm-spine sleeve with spot-gloss varnish.
20"x30" poster
Glossy 12"x12" insert.
Limited to 1000 copies in this colourway.
Recorded live in Russia in front of 6000+ friends at Moscow's Adrenaline Stadium on the #TTTS2017 'Take To The Skies' 10th Anniversary tour.
PLEASE NOTE : the vinyl release is a live recreation of the 'Take To The Skies' album only. The full set (including non-TTTS tracks, Hoodwinker, Anaesthetist, Redshift etc) will be available on streaming / download services and on the video footage.
Please note: This is just a digital mock up of the ordered colour ways. due to the nature of vinyl manufacture, final product may vary to a degree.
'TTTS Live In Moscow' 2xLP: 1. Stand Your Ground 2. Enter Shikari 3. Mothership 4. Anything Can Happen In The Next Half Hour 5. Interlude 1 6. Labyrinth 7. Sorry You're Not A Winner 9. No Sssweat 11. Today Won't Go Down In History 12. Return To Energiser 14. Jonny Sniper 15. Adieu 16. Ok Time For A Plan B