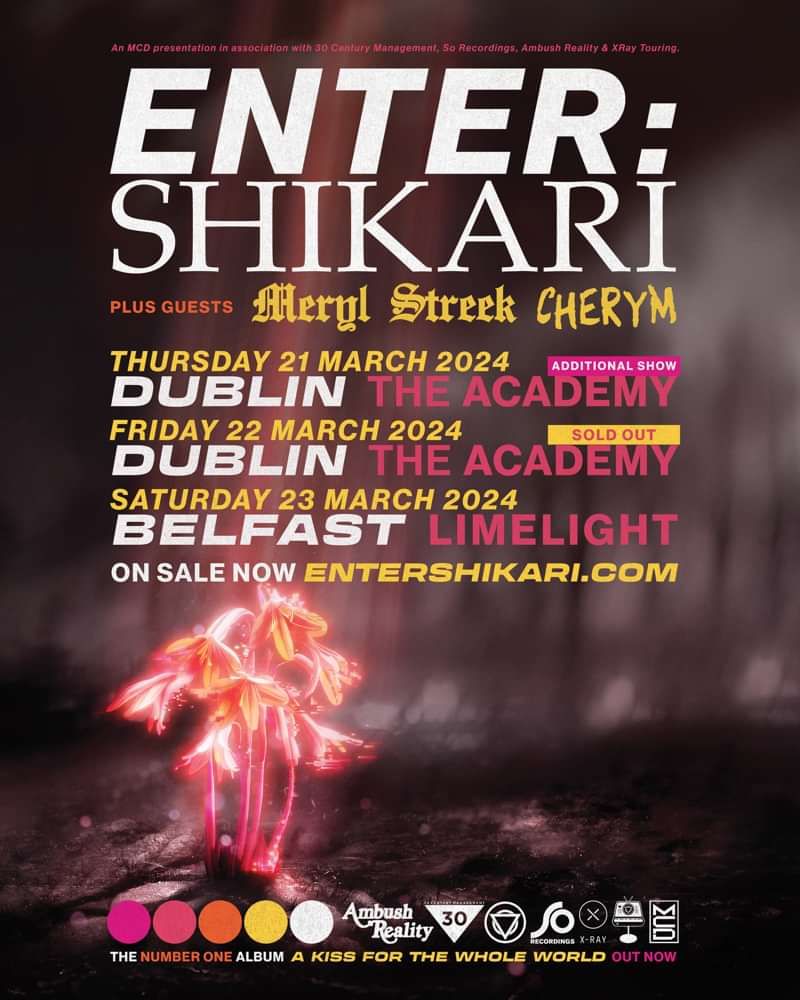 Enter Shikari
+ Meryl Streek + CHERYM
Please
log in
to view ticket options
Enter Shikari today announce the addition of shows in Dublin and Belfast to their 2024 live schedule.
The shows in March at The Academy and Limelight, in Dublin and Belfast respectively, will mark the band's first performances in either city since 2017.
Line Up
"A gut-punch of energy and Riot grrrl DIY enthusiasm." -The Irish Times
"Gut-punching punk rock with a pop smattering melody that drifts effortlessly into the ears" - Indie Buddie
"Badassery and a new kind of cool girl vibe: don't mess with them." - Hot Press
Serving up their own unique recipe of pop-rock, Cherym are a three-piece from Derry. The trio's identity was born of a joint love of Garage Rock, Pop Punk and a desire to be the biggest band in the world. Their self-released debut EP 'Mouthbreatherz' racked up over 20,000 organic streams and garnered them fans all over the world. Cherym won the 'Oh Yeah Contender' award at the NI Music prize in 2019.
In the summer of 2019, Cherym embarked on their biggest run of dates yet, with performances at Electric Picnic, Indiependence, Stendhal, Manchester Punk Festival, Knockanstockan, K-Fest and we've only just begun. They then went on to support Jealous Of The Birds, And So I Watch You From Afar and Fangclub.
The band released their latest single 'Abigail' in November 2019, which has been their most successful release yet, with support from both DSP editorial play-listing and National radio. The song has received support from BBC Introducing, where it debuted on Huw Stephens' show. With over 50,000 streams worldwide, Cherym look to carry this momentum into the new year.
In February 2020, the band embarked on a series of dates with 'Yonaka', including a sold-out show in The Grand Social in Dublin.