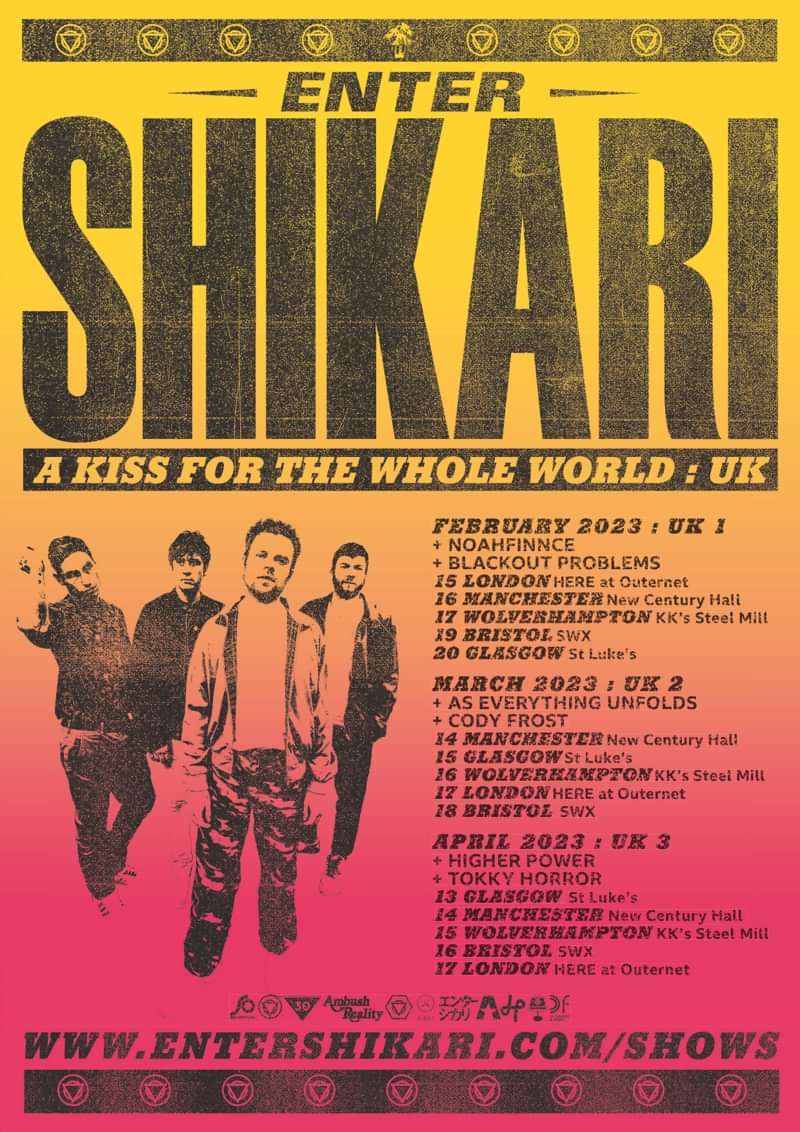 DHP and AEG presents:
Enter Shikari
+ NOAHFINNCE + Blackout Problems
SOLD OUT
Entry Requirements: 14+ (under 16s to be accompanied by an adult)
General Admission (e-ticket)
Please
log in
to view ticket options
To celebrate the release of "A Kiss For The Whole World," Enter Shikari will play three sets of special monthly album release residency shows across five UK cities: London, Manchester, Glasgow, Wolverhampton and Bristol
Tickets for all shows will be available initially to those who pre-order the new album from the Enter Shikari webstore and members of the "Future Historians" fan club.
When you pre-order the new album, a Ticket Access Pass will be included in your order.
Your ticket access pass will need activating via email to become valid on your account.
To access tickets, ensure you are logged into your account and tickets will be available for you HERE at the time of on-sale for the duration of your exclusive pre-sale period.
Ticket Access Pass tickets will go on sale on Thursday 19th January at 10am local time UNTIL Wednesday 26th January at midday.
NO TICKETS ARE AVAILABLE BEFORE THIS DATE.
General sale for those without a Ticket Access Pass begins Thursday 26th January at 10am local time. If tickets sell out before general sale begins, then no tickets will be added at general sale.
TWO tickets max per Ticket Access Pass.
For all information, please check the F.A.Q.'s page.
Any questions, please email info@entershikari.com
Please contact the venue directly regarding accessible companion tickets on info@swxbristol.com
To purchase a ticket without purchasing an album, click here
You can also purchase the new album here.
Line Up
With eyes wide shut we focus on the good things. Blackout Problems take their lyrics seriously and commit themselves with love and passion to music. Especially important is a dynamic live show, compared to a cake thrown in the audience's face, shaking them up and sweatening the night with one or more acoustic performances. Blackout Problems don't want to be the only ones, who are covered in sweat after the show.