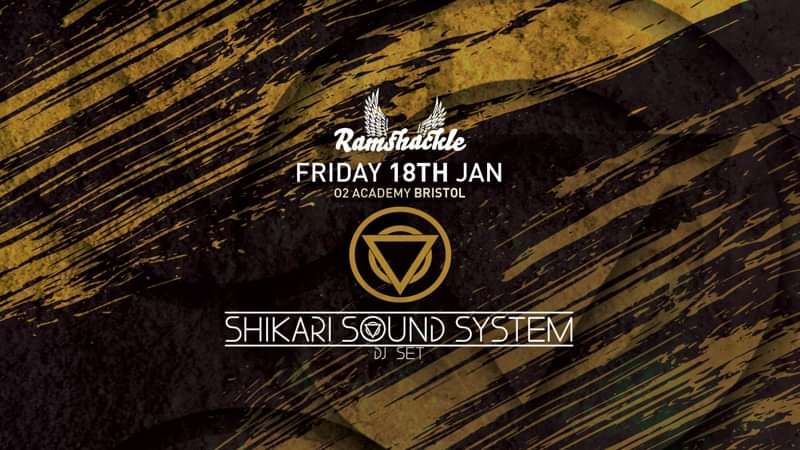 Shikari Sound System DJ Set
Enter Shikari
£5
Entry Requirements: 18+
Buy Tickets
Ramshackle is incredibly excited to be hosting the official Enter Shikari afterparty following the band's show on the O2 Academy stage!
Performing an exclusive DJ set under their world famous alias "Shikari Sound System" you can expect a colossal set of bass driven music as the boys play through everything that has so heavily influenced their sound!Trust us when we say the 18th is going to be one to remember!
Ramshackle is Bristol's Notorious weekly mixed genre rave every Friday night with 2,000 ravers all under one roof, with huge international guests every month accompanied by our weekly events with the best residents in Bristol and incredible themed parties.
Entry: £5 on the door/ £6 after midnight
💥 2000 Ravers all under one roof 💥 💥 Yo-Yo's (Ramshackle's world famous drink) 💥 💥 3 Rooms of diverse music 💥 💥 Confetti, CO2, Laser Shows, Incredible Visuals 💥 💥 Regular giveaways, themed nights & HUGE guests 💥
Our previous guest include: DJ Fresh, Sigala, Yungen, Mistajam, Blonde, Luck and Neat, Oxide & Neutrino & many more!
A wonderful blend in all that's good in music, spanning across a wide range of genres from house to dnb, grime to hip-hop, Bassline to Bashment and everything in between!
Main Room 🔊🎤🎉 - Ramshackle In the main room, our resident DJ's will provide you with an array of genres alongside incredible LED projections, confetti cannons, co2 cannons and of course the very best music!
Room 2 🎸🎼🤘🏽 - Rock it Bristol Rock it is everyone favourite room 2, offering an alternative to our main room with Pop Punk, Rock, indie and those guilty pleasures!
Room 3 🎤🎷🕶 - Vibes Vibes is Bristol's freshest brand providing you with hip-hop, grime, bashment and RnB! All mixed by Vibes resident DJ Alex Mac!